Sterifeed has more than 20 years' experience in the supply of breast milk storage bottles for milk banks, neonatal units, special care nurseries, and paediatric departments at major hospitals worldwide.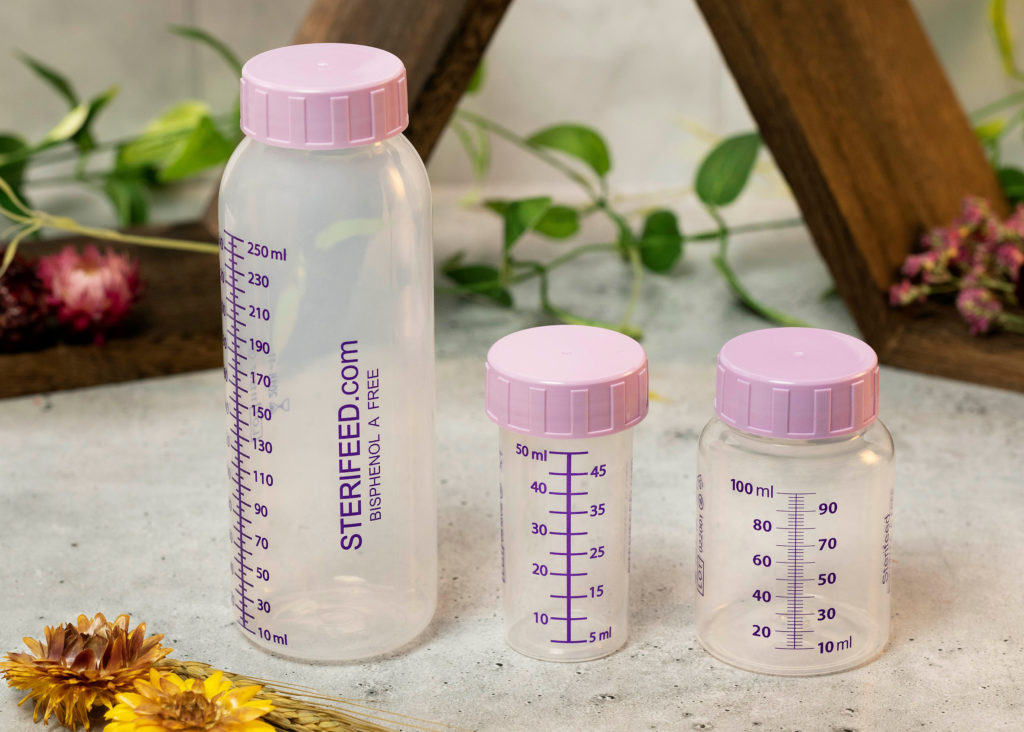 About SteriFeed
SteriFeed is the market leader for high quality milk storage bottles, suitable for both pasteurization and freezing All Sterifeed bottles have universal threads making them compatible with any standard breast pump kit.
---
Product Information
MILK STORAGE: Sterifeed bottles come in a large size range to suit many requirements: 50ml, 100ml, 130ml, 250ml and 500ml. Available in bulk sterile bags or each bottle wrapped in its own tamper evident PE bag.
THE CLEAR BOTTLES have a high-quality print which makes reading the 1ml graduations easy. The bottles are ridged to prevent force feeding and are airtight and leak resistant to ensure maximum shelf life for breast milk when stored in the refrigerator or freezer.
COLOSTRUM COLLECTORS: Sterifeed realizes the importance of Colostrum and how capturing every drop is vital, and that is why they created the special line of colostrum collectors.
The 20 ml colostrum collector has a sufficient wide opening to allow each droplet to be caught during expression.
The 1ml colostrum collector offers the perfect method of collecting every droplet. Clear markings allow the user to see the exact volume collected up to 1ml and the plunger drives to the end of the barrel using a unique tip which allows for all of the liquid gold to be removed. The collector comes with a stopper so the colostrum can be safely stored.
MATERIALS: Sterifeed's range of bottles are made from FDA food grade clarified polypropylene. 100% free of Bisphenol – A (BPA) Bisphenol – S (BPS), DEHP, Phthalates, and can be recycled, incinerated, or landfilled without any harm to the environment.