CleanEase Steam Sanitization Bags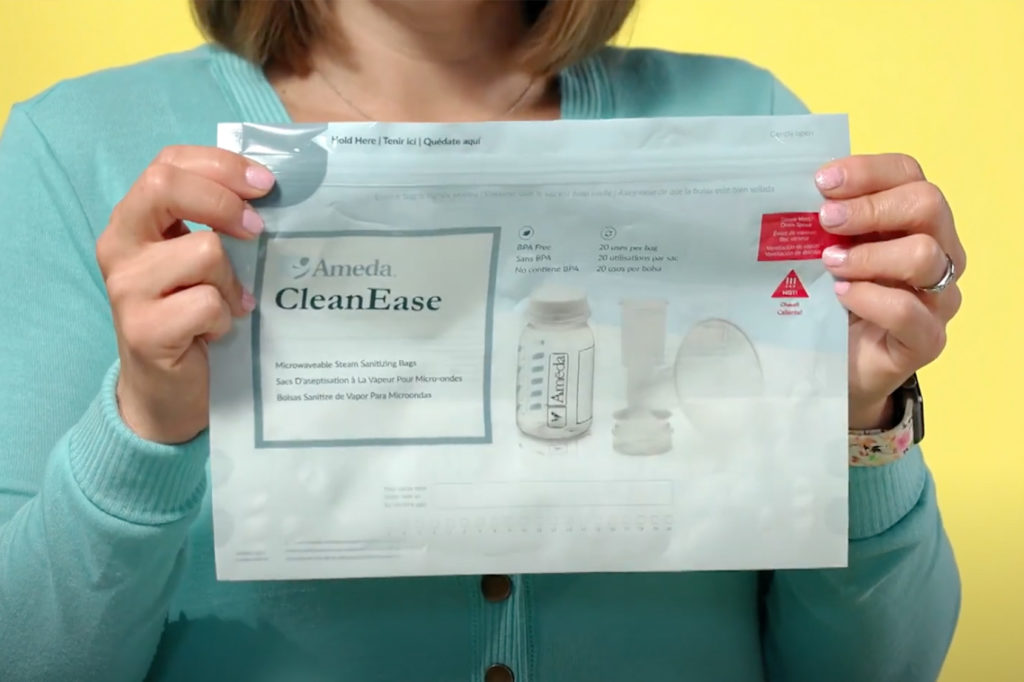 How To Use Ameda CleanEase Microwavable Steam Sanitization Bags
Today, we'd like to share with you how to use CleanEase bags from Ameda. These reusable steam sanitization bags are a great addition to your pumping regimen and make sanitizing your breast pump parts much easier.
Here's how to use your CleasEase bags:
1. Clean Your Breast Pump Parts: The first step is to give your pump parts a wash. Make sure to wash off all visible milk so that it doesn't cook onto your pump parts when steaming.
2. Open Your CleanEase Bag: These bags open just like a Ziplock bag. Once you pop open the zip, they can easily be pushed open to stand on the table, ready for use.
3. Fill With Water: Add 60mls (2.02 fl oz) of water and then add your pump parts.
4. Add Breast Pump Parts to the CleanEase Bag: Put into the bag your bottle, valve, flange and diaphragm. Thre's no need to put in your tubing or adapter cap as those do not need to be sanitized. Note: If you happen to be using a Flexishield Silicone flange insert with your pump, you can place that in your steam bag. Nipple shields can also be placed into the steam bag.
5. Zip Up the Bag: When you've added your breast pump parts into the bag, simply zip the bag closed. When the bag is closed, you will see a red section on one side. This is the steam vent. Caution: this red zone is the part of the bag here steam escapes, so be careful of this section when removing the bag after steaming.
6. Put in Microwave & Steam Away: When you're ready to go, simply place your CleanEase bag into the microwave. The time that it will take in the microwave, is dependent on the wattage of your microwave. Generally, it will take between two and five minutes.
7. Carefully Remove CleanEase Bag from Microwave: When your microwave is done, you'll want to carefully remove from the bag, avoiding the steam vent, and pour the remaining water into your sink. When all the hot water is removed, carefully open your bag. And that's it! Now you can take your pump parts out and place them on a paper towel or a clean tea towel to dry. Once dry, they are fully sanitized and ready to use again.
Ameda CleanEase Steam Sanitization bags come in a pack of seven bags. Each bag is reusable for up to 20 steam cleans.
CleanEase Bags are available online and in store at a variety of retailers including: