Perfect BEAUTY for 'Zoom Face'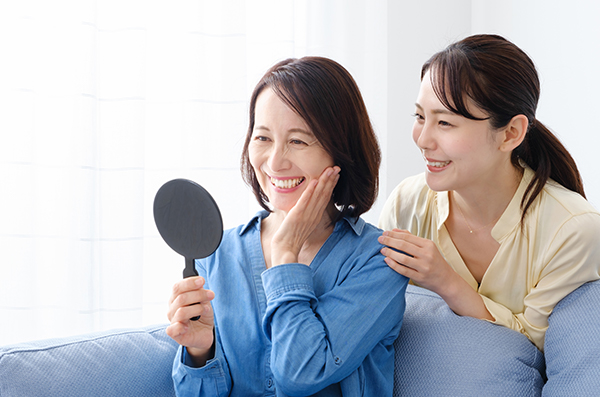 You've probably been dealing with Zoom Face, but haven't even realized it. What is Zoom Face? It's those moments when you're signing on to a Zoom meeting or even in the middle of it, and you start to look at your video feed and wonder "Is that really what I look like?". You've done that, haven't you? First off, you really must remember how lighting and angles can make a huge difference in how you appear on camera. Instagram influencer Danae Mercer (https://www.instagram.com/danaemercer) can show you just how dramatic of a difference lighting and angles can make. Stress has also been shown to have an impact on skin, and no one can deny it's been a stressful year. But if you're still not happy, you should know that Botox is not your only option.
Take a Pass on Botox
Hate needles? Worried about the cost and long-term commitment of Botox? Then the Perfect BEAUTY by TensCare can help with Zoom Face issues without needles, at minimal cost, and you can stop any time you want. So, what is it? The Perfect BEAUTY is a powered muscle stimulator used for body toning and shaping, as well as for the reduction of wrinkles. It works by sending a small and gentle stimulation (similar to your natural nerve impulses) to the muscles being targeted via two or four auto-adhesive electrode pads. This electrical stimulation helps you to firm and tone your face or body which can minimize the appearance of wrinkles. The Perfect Beauty has bespoke programs dedicated to each specific area: face, abs, buttocks & hips, thighs, bust, arms and calves.
The Details
The type of electrical stimulation is called E.M.S. (Electrical Muscle Stimulation) and has successfully been used in rehabilitation and training in competitive sports. EMS produces intensive and effective muscular contractions. These external electrical impulses work through the skin to stimulate the nerves supplying a specific muscle group. This current then passes into the nerve fibers controlling that part of the muscle stimulating it to contract. So, electrical stimulation (EMS) artificially activates a muscle for you enabling to exercise the muscles and, as with any kind of exercise if performed regularly, build strength and tone and promoting the muscular structure. This also improves microcirculation and mobilizes fat in areas where it tends to accumulate.
Bye Bye Zoom Face
Just like exercise tones the muscles of your body, this stimulation tones and firms the muscles of the face increasing the appearance of fullness which in turn decreases the appearance of wrinkles. Bye bye Zoom Face. This is how you get there:
The most effective way to use Perfect BEAUTY is once every two days for each muscle with a day of rest in between. It is possible to work on pairs of muscles, for example thighs and abdominal muscles, treating one set one day and the other the next day. Once you have reached a point where you feel you have the results you are looking for you can reduce sessions to once or twice a week. How the electrical pulses are delivered to the muscles are through the use of electrode pads that stick to the skin. Some tips on using the electrode pads:
They must always be used in pairs (two electrode pads on each channel), so that the signal can flow in a circuit.
Electrode placement is very important for best results. Don't worry, the Perfect BEAUTY comes with detailed diagrams.
Place two electrode pads over the bulk of the muscle, with one electrode over the muscle's motor point. The motor point is the area on the skin that is located closest to the motor nerve's entry into the muscle – about 1/3 of the way down the muscle from the spine. Here, it is easiest to trigger a contraction by electrical stimulation.
Large muscle groups may need more stimulation, that is, four electrode pads used simultaneously.
When exercising smaller muscles, make sure to adjust the intensity level slowly as the nerves may be more sensitive since smaller electrode pads have an increased current density.
Home Time
All this can be done at home whenever works best for you. While reading, watching a movie or even while you're working! Once you have a TensCare Perfect BEAUTY machine all you have to worry about is replacing the batteries and the electrode pads periodically. The machine itself is small and light making it portable and convenient. For more information, you can look at the product page at Mother's Choice Products, or you can buy one at Amazon.ca